Brick homes and residences with brick features are not only visually pleasing and but they stand the test of time. The elegance of a brick home is timeless. However, it is not easy to find contractors that specialize in brickwork. Here at Affordable Home Services, we are proud to provide repointing brickwork services in addition to other brick-related services. We also provide tuckpointing and brick replacement. However, our repointing service is particularly popular. All of our brickwork services are provided in a thorough, timely, and reliable manner.
Our Repointing Brick Services
Most people have heard of repointing in passing yet do not fully understand what it means. In short, repointing is a process that involves the careful repair of masonry joints within brick homes and other buildings made of brick. This type of project is particularly challenging, necessitating the attention of those who have extensive experience working with brick. Repointing requires the careful removal of mortar that has been damaged. This compromised mortar is subsequently replaced with brand new mortar.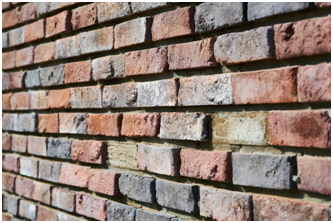 The purpose of our brick repointing service is to enhance the building's resistance to water and moisture while simultaneously improving its appearance. We also perform waterproofing and leak diagnosis. Most people are curious as to when to repoint brickwork to make the optimal impact. If you notice any water is moving through your bricks or if you suspect there is a leak, do not hesitate to ask our team for assistance. Fail to address the leak and your home's structural integrity will be compromised. Our team is here to pinpoint the source of the problem and waterproof the entirety of your bricks to ensure your home or other building remains completely dry.
In addition to repointing internal brickwork and waterproofing brick, we also perform tuckpointing. Tuckpointing involves mortaring of bricks to make them look as though they have fine joints. This process decreases the amount of mortar that is visible. Take a look at a home before and after it is tuckpointed and you will agree it looks that much better after the tuckpointing is performed.
We Embrace the Challenge of Repointing Brick
Repointing brick and stone is much more challenging than most people assume. Though few know it, the truth is masonry work has the potential to compromise or even destroy old homes. The bottom line is you need the professionals to perform brick or stone repointing at your home, regardless of its age. The alternative is to lean on those who lack experience who have the potential to attempt repointing that eventually backfires to the point that it damages the home's structural integrity.
The quality of your brick repointing service provider is particularly important if your home was built decades ago. The last thing you want is for a shoddy repointing service to result in a weakening of your home's structural integrity. Even if your home is made of wood or another non-brick material, you can likely benefit from our brick repointing service. Most homes have some brick, often in the form of a chimney or foundation wall. In some cases, homes have decorative bricks placed on the exterior while the bulk of the building's construction is wood. We also repoint interior brick fireplace units to boot.
The bottom line is masonry on homes will only last so long. The mortar between bricks and stone gradually deteriorates, causing cracks to develop and move on in, ultimately weakening the structure. The result of this weakening combined with the freezing and thawing cycle may eventually lead to loosened bricks and stone.
Key Takeaways
Be proactive by reaching out to our team for repointing and you will rest easy knowing the proven brick experts performed repointing the right way. We know the best way to repoint brickwork. Our repair pointing brickwork process removes some of the mortar so it can be replaced with brand new mortar. While other repointing services use cheap or inferior mortar, we strictly use mortar of the highest quality. Our team is well aware of the fact that using the wrong type of mortar has the potential to cause irreversible damage.
If your home or other building has brick, it needs repointing
Repointing must be done in a precise manner to make the intended impact
Only trust the best to repoint your home's brick
Contact Affordable Home Services Today
Our home services providers are here to help you bring out the best in your home. If you are interested in our repointing brickwork service, waterproofing, tuckpointing, or any of our other services, reach out to us today for a free estimate. We provide no-cost estimates in Clifton, Livingston, Montclair, Passaic, Hackensack, West Orange, Jersey City, Newark, Elizabeth, and Paterson. You can contact our team at 1-973-473-4830 or by filling out our convenient online contact form.