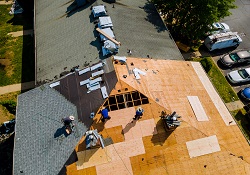 Affordable Home Services proudly serves the township of Saddle Brook, NJ, in Bergen County offering high-quality home services. This includes roofing, fiber cement siding replacement, window treatments, renovations, and custom projects tailored to the needs of clients. Our no-hassle, affordable approach creates value and improves homes.
Kitchen Renovation Services
Kitchen renovations are among the services we specialize in, and we can install everything from new flooring to cabinets. Restorative projects, complete kitchen overhauls, and updates can change the mood of living spaces and enhance eye appeal. Bathroom and other home restoration services are also performed according to industry best practices and in compliance with local regulations.
Saddle Brook, NJ Roof Repair & Installation
Roofing services in Saddle Brook, NJ, are critical given the weather conditions, making effective repairs and replacement a priority. We offer gutter and downspout installation, comprehensive roof inspections, and estimates for service. Clients get the insight they need to make affordable roofing improvements, thereby increasing the quality of their living spaces and the value of their homes.
We also support businesses through high-quality commercial roofing services. Commercial roofing systems and built-up roofing are critical for all types of businesses including restaurants and retail establishments. Whether it is ventilation in conjunction with roofing structures or EPDM and asphalt shingle roofing, we have the experience and know-how to assist.
Saddle Brook Siding Replacement and Installation
We offer
siding replacement
services that upgrade home exteriors to meet the environmental challenges presented throughout the year. New vinyl and fiber cement siding installation, siding replacement, and repair projects are among the specialties of our Saddle Brook siding contractors. Whether looking for energy efficiency or protection from the elements, we can upgrade siding and give homes new eye appeal.
Brickwork Services
If clients need brickwork, including crack repair, brick replacement, tuckpointing, or repointing, we can help. Leak repair and waterproofing maintain the integrity of walkways or patio areas, and we are adept at identifying critical spaces that require service. Quality brickwork has longevity and can make outdoor structures more fun and aesthetically pleasing.
Saddle Brook's #1 Roofing & Fiber Cement Siding Contractor
Affordable Home Services, a third-generation contractor, is New Jersey's most trusted roofing and fiber cement siding contractor, having completed over 10,000 jobs. Our goal as a Saddle Brook roofing and siding contractor has always been to deliver high-quality work at a reasonable cost. Our commitment to this objective has sustained us for three generations.
Our financing options encompass roofing, siding, and window work, and will make the entire process go more smoothly. Affordable Home Services' in-house financing alternatives were created with you in mind, which means we want everything about your roofing job, including the cost, to go as easily as possible.
Contact Affordable Home Services Today!
As a third-generation, family-owned home services provider, we focus on quality and providing the best home renovations and repairs. Decades of reliable service and repair work have earned us a solid reputation in the Saddle Brook, NJ, community. We have flexible hours for service, giving clients the options and time needed to optimize their homes conveniently.
To learn more about Affordable Home Services and renovations or repairs, please contact us today. We offer free estimates for service and affordable financing options. We help clients optimize their homes by providing high-quality home repairs ranging from roofing service to fiber cement siding installation. We add value to clients' homes and their living spaces as siding contractors.