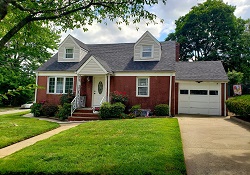 Affordable Home Services is proud to provide roofing and siding services to hardworking Boonton, NJ residents, and business owners. Our home services are held in high regard throughout the local community as well as in other parts of New Jersey. We have been in the roofing and siding business for 70 years, spanning three generations of our family. Let our friendly locals handle your home-related projects and you will rest easy knowing your property is in good hands.
We provide affordable service with an unparalleled level of professionalism and customer service. Contact us today for a no-cost estimate for vinyl siding installation, roof repair service, or another home service. We will level with you about the true roof repair cost or other service costs so you get the worth of your investment. Ask around Boonton and you will find our home services siding contractors are straightforward and trustworthy.
Boonton, NJ Roof Repair and Replacement
Your roof is the most important component of your home as it protects everything below. If you are even slightly concerned there might be an issue with your roof, be safe rather than sorry by having our home services team address the problem. We provide all sorts of roofing services including repair, maintenance, inspection, installation, ice melt systems, and more. If your roof needs wood rot repair, we have got you covered. Our team works with different roofing materials ranging from flat to slate, metal, tile, wood shingle, asphalt shingle, etc.
Siding Installation and Replacement in Boonton
Do not make the mistake of waiting to replace your Boonton home siding until there is extensive visible damage or deterioration. Old siding compromises aesthetics as well as integrity, setting the stage for the growth of mold and the formation of leaks. Our Boonton siding experts are here to replace your siding. We work with every type of siding including vinyl siding, cedar siding, and fiber cement siding.
Next Step: Call Us to Get a Free Estimate
If your Boonton, NJ home or business does not need siding or roofing repair/replacement, you can likely benefit from another one of our services. We perform door replacement, window replacement, brickwork, and plenty more. If you are curious as to whether we can take on another home-related project you do not see listed above, simply give us a call. You can contact our Boonton team by dialing 1-973-473-4830. You can also contact us online for a free estimate.