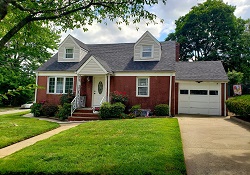 Affordable Home Services offers the highest quality services and support to its customers in Berkeley Heights, NJ for three generations. We have continued to offer services as your trusted
roofing contractor
while offering the lowest roof repair costs. We deliver what you need to keep a roof over your head, whether you need a repair, some new siding, windows, and doors, or a whole new roof. We have the knowledge and experience to get the job done right the first time.
Why Choose Affordable Home Services for Expert Roof Replacement in Berkeley Heights, NJ?
Over the years, we have met and exceeded the needs of thousands of customers, which is why our firm is the trusted go-to roofing contractor in Berkeley Heights, NJ. We are the roof repair service you go to when you need it to be done reliably. Here are just a few of the services we offer.
General Roof Repair Service & Maintenance
Roof Inspection
Roof Replacement (asphalt or wood shingles, slate, or tile)
Wind Damage Repairs
Wood Rot Assessment & Repair
We offer the comprehensive recommendations and assessments you need for your roofing and siding needs so that you will quickly have a better idea of what to expect if you decide to move forward with repair or replacement. We want you to have all the information you need to make the best-informed decision.
Siding Installation Services in Berkeley Heights, NJ
At Affordable Home Services, we are the leader in the industry, with top-notch service for siding installation in Berkeley Heights, NJ. One of our specialties is vinyl siding installation, which is always one of the fastest and easiest ways to beautify your home.
You will also reap the rewards with lower heating and cooling costs. There is always an uptick in property values along with an improvement in curb appeal. Best of all, though, you will love the siding styles and colors an easy way to rejuvenate the design of your home. Here are a few of the installation options.
Vinyl siding installation
Wood or cedar siding
Fiber cement siding
We provide services for all these options, so no matter which installation option you choose, you will see a change in the look and feel of your home. It is the best siding contractor available.
Next Step: Schedule a Consult to Learn How We Can Help
Affordable Home Services has the expertise and knowledge you need, whether you are looking for brickwork, window and door replacement, skylight installation, and so much more. When you come in for a free consultation, we will discuss your home improvement needs and give you recommendations and an estimate of what it will take to plan and complete the work for you at the lowest possible roof repair cost. Call us at (973) 473-4830 or contact us online to reserve your free, no-obligation estimate.