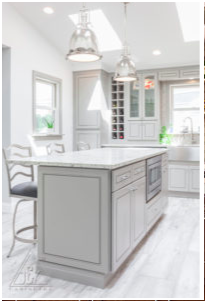 If you're starting to think of a remodeling project, you're not alone. The warmer months give us more freedom and better weather to complete renovations and get your home looking and feeling great. From vinyl siding and roofing to full-scale kitchen remodels, Affordable Home Services is ready to help you create the home of your dreams.
Kitchen Remodels
If you're looking for the kitchen remodel NJ residents have trusted for years, Affordable Home Services has you covered. Our team can tackle all jobs, from replacing flooring to full-on, ground-up remodels. Our team has the technical skill to install functional fixtures and appliances, and the design experience to help customize your space.
Our focus when redesigning a kitchen is to not make it more functional, but also space you'd want to socialize in. Kitchens are a natural congregation spot for parties, holidays, and family reunions, so of course, you want it to be beautiful, warm and inviting. From colorful backsplashes to gorgeous tile floors, our materials and ability combine to create a stunning remodel every time.
Check out some of the photos of satisfied clients who have trusted us to complete their New Jersey kitchen renovation for them:
"I've had Affordable Home renovate my shower and kitchen. I am in love with how they both turned out. It is great dealing with the owner Jim as he really takes care of your wants and needs for the renovation. He even went to the granite shop with me to look at slabs. I will always call these guys whenever I need something done for my house. They make sure my house dreams come true :)"
Roofing projects
The last thing you want is to get caught in summer showers with a leaky roof. Moreover, you want any roofing repairs to be done by qualified, licensed, and confident crews who stand behind their work. You have a lot of options for roofing companies in NJ, but Affordable Home Services is a cut above the rest.
We can replace your entire roofing system, or simply do a seasonal inspection and tighten up any potential problems. For instance, did you know a skylight can be a spot where water and external air can enter your home? It's an easy fix, but if you don't have inspections, you'd never know!
Our team focuses on the fact that your roof is best at protecting your home if everything involved is working correctly, including:
Gutters and downspouts are free and clear of debris and damage
Flashing is held together and preventing leaking
Your ventilation system is sealed up and free from birds, squirrels, and other animals
Small areas of storm damage are repaired preemptively so they don't turn into major problems down the road
We offer both commercial and residential roofing solutions for NJ citizens, like these recently completed jobs:
"Jim, John, and their team replaced our roof and added a portico above our front door in May 2020. Even during quarantine, they were very responsive and great to work with. We have had some bad experiences with other contractors in the past few years, but working with Affordable was painless! They were professional, had high-quality work, and were overall nice people to work with. We are very happy to have brought our business to Affordable, and we will definitely go back to them if we need any other work done to our home."

Window and Door Replacement
Affordable Home Services is NJ's premier window and door replacement, contractor. Here we offer a variety of different materials and styles so that you can choose replacements that not just fit your home but actively improve its appearance. Our team of expert replacement window installation contractors will also install the window or door for you so you can avoid unnecessary hassle.
Check out some of the photos of satisfied clients who have trusted us to complete their New Jersey window and door replacement for them:
"Affordable Home Services is very good. I was very satisfied with the new windows. The workers were very good and courteous. I definitely will use them again."

Vinyl siding
Beautiful siding makes your home stand out, but constant battering from the elements can leave its mark over the years. If you're considering replacing your siding, there's never been a better time than now. Siding doesn't have to be a plain, boring white anymore. With a broad range of colors and styles, you can truly personalize the exterior of your home with a vinyl siding remodel
Our vinyl siding contractors can give you a quote on the time and cost of replacing your siding, as well as go over design options. Additionally, as a vinyl siding contractor, we are A+ rated with the BBB, and award-winning in our field. We work tirelessly to make sure your home's exterior is beautifully protected with modern vinyl siding.
 "Affordable resided our house. They were professional and did a great job. They were timely each day on the job. The crew Alex & Fernando did a fantastic job, cleaned up at end of each day. The house looks like new. Highly recommended, quite pleased, and reasonably priced."
Trust Affordable Home Services
From bathrooms to kitchens, and remodels outside, Affordable Home Services can meet your renovation needs, including:
Bathroom remodels
Kitchen remodels
Vinyl siding installation and replacement
Roofing inspection, repair, and replacement
Home additions
Window and door replacement
We have years of experience serving New Jersey with affordable, award-winning, and trusted home remodels. Give us a call today to get a free quote on your next project and see the difference Affordable Home Services can make.