When rebuilding the roofing system on your Hudson, New Jersey home, now is a wonderful time to think about using energy-efficient shingles. Instead of adding to the expensive expense, you have the chance to make your roof something that lowers your utility costs. Energy-efficient asphalt shingles are superior to other types in many ways, have comparable pricing, and need similar installation.
With years of expertise working with energy-efficient asphalt shingles, Hudson roofing contractor Affordable Home Services can advise you on the ideal roof for your home's energy efficiency and make sure it's put properly. One of the finest house renovations you can do is a new roof made of energy-efficient singles.
What Are Shingles That Save Energy?
Solar reflecting asphalt shingles, also known as energy-efficient asphalt shingles, are made to reflect the sun's intense UV rays. Your home receives heat from your roof, which may reach extremely high temperatures in the summer. This implies that in order to maintain a cool, pleasant house, your air conditioning system must work harder, increasing your utility costs.
Several different materials that reflect sunlight efficiently and shed heat rapidly are used to make energy-efficient shingles. Utilizing solar reflecting shingles, and cool roof technology may significantly minimize the amount of heat transmission into your house, keeping you more comfortable and saving you money.
The Advantages Of Energy-Efficient Roofing in Hudson, New Jersey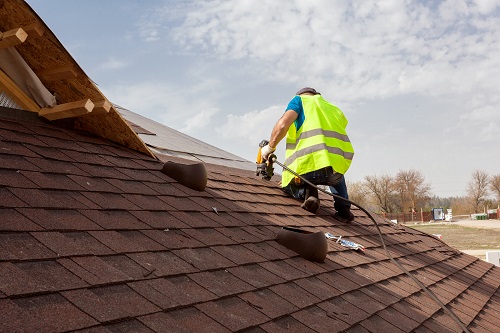 • Lower utility bills – This is the main reason why you should put energy-efficient asphalt shingles on your home. According to the U.S. Department of Energy, installing a new roof can help you save up to 15% of the energy you need to power your air conditioner. At first look, that might not seem like much, but over time, it quickly adds up.
• Longer roof life – Over time, heat and the sun's UV radiation will eventually destroy your roof. This process is significantly slowed down by energy-efficient shingles, which reflect a large portion of this radiation. An energy-efficient roof will often last 30 years or more.
• Tax credits – You may be eligible for a federal Energy Star tax credit of up to 30% on some types of energy-efficient shingles, which can be sizable savings.
Energy-efficient shingles come in a broad range of hues and designs. Every form of house décor or design style may be accommodated. Long-standing partnerships between Affordable Home Services and the top national producers and suppliers exist. We can assist you in making the greatest roofing decision for your home's aesthetics and energy efficiency.
Once you've decided on the kind of energy-efficient asphalt shingles you want, they must be placed in accordance with local building laws and Department of Energy guidelines. Our roofers in Hudson, NJ, have years of expertise and extensive training in the installation of energy-efficient roofs.
As a licensed roofing contractor, we ensure that your roof is constructed in accordance with local building codes and industry standards. Additionally, they will guarantee that your roof performs as it should, keeping your house cool, cozy, and dry while also helping you save money. We guarantee every task we complete, and we are completely licensed, insured, and bonded.
Key Learnings:
Investing in energy-efficient shingles will reduce your utility costs.
The time between roof replacements will be extended with an energy-efficient roof.
You may be eligible for a federal tax credit if you install solar reflecting shingles.
A broad range of colors and designs are offered for energy-efficient asphalt shingles.
For All Your Hudson Roofing Needs, Please Contact Us!
When you're prepared to have a new roof built on your house in northern New Jersey, Affordable Home Services will assist you in making the best decision and guarantee that the roof is set up properly. Call (973) 473-4830 for a free, no-obligation quote, or contact us online. We may go over our financing alternatives with you during a consultation that is tailored to your particular Hudson roofing job.