Your home's siding is a huge factor in first impressions, plus, it provides protection from the elements. The last thing you want is for critters, snow, rain, or wind to move into your home through the compromised siding. Furthermore, you don't want your home's aged or faded siding to be an eyesore that your neighbors gossip about. Affordable Home Services is here to install Hardieplank® lap siding at your home to maximize its beauty and ensure it remains at your selected temperature regardless of what is happening outside. If you are like most homeowners, you are likely wondering if your home needs new siding and are pondering where to buy Hardieplank® lap siding. Our team has all the answers.
James Hardie ColorPlus® Technology
When deciding to upgrade your siding, opt for Hardieplank® lap siding and your home will have a truly beautiful color that maintains its hue as the years go by. Each James Hardie® siding product is sold primed and prepared for application. ColorPlus® Technology ensures an eye-popping color that stands the test of time, especially when compared to the typical paint job.
Resistance to UV-Light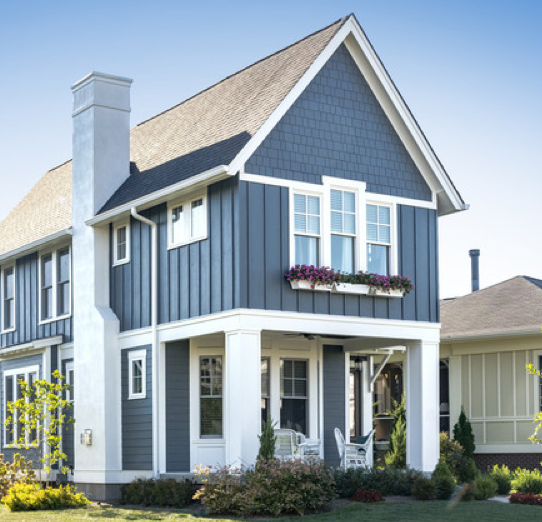 Hardieplank® lap siding is built to endure the sun's wrath and remain beautiful in the years ahead. This siding is also UV-ray resistant, meaning it won't fade after exposure to the sun. Thanks to the ColorPlus® technology, this unique siding will maintain its look for years or even decades.
A Durable Finish
James Hardie® siding is made with a proprietary finish carefully implemented in a fully controlled factory setting to maximize adhesion and help prevent debris from sticking to the house. This ultimately reduces maintenance. The siding is also highlighted by a baked-on bond added between the coats that cure the finish to prevent cracking, peeling, and chipping.
The Right Color for Your Home
Thanks to ColorPlus® technology, this unique siding has the potential to retain the aesthetic of wood or any other color you desire. The color options have been narrowed for your selection. Take a look at the siding color options and you are sure to find one that looks fantastic on your home. In fact, the ColorPlus® Technology has a 15-year limited warranty applicable to pain as well as labor, giving you protection against chipping, peeling, and cracking.
Siding Matters
We are a NJ siding contractor with years of experience helping homeowners select the right option for their home. Meet with us and we will detail the merits of Hardieplank® cedar mill pre-painted lap siding for your home. Put your faith in Affordable Home Services to install your siding to perfection, ensuring your home looks amazing and holds strong across posterity. You can trust our team to get this job done right on the first try.
Our business has an A+ BBB rating and is fully licensed. Between Hardieplank® lap siding and other types of siding, you have plenty to choose from. Let us steer you in the right direction and you will enjoy beautiful, maintenance-free siding for years to come.
Takeaways
Hardieplank® lap siding is built to last
Hardieplank® lap siding looks amazing
Our siding crew is here to perform a flawless installation of your selected siding
Siding is a large determinant of your home's beauty and value
Contact Affordable Home Services Today!
If your home siding is damaged, faded, or simply looks ugly, don't go one day longer letting it ruin your property's aesthetic. It is time to take action with the assistance of our siding experts. Reach out to us today to find out more about our siding services. You can contact us by dialing 1-973-473-4830. You can also fill out our convenient online contact form for a free estimate.