Home Improvement Company Serving Fair Lawn, NJ
When you require quality home improvement services in Fair Lawn, NJ, Affordable Home Services Construction worker putting the asphalt roofing (shingles) with a nail gun on a large commercial apartment building development is your best choice for residential contractors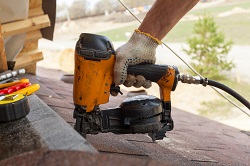 We are a third-generation family-owned company with over 70 years of experience serving clients in northern New Jersey. We have earned a reputation in the community over the years for our expertise and experience, superior work, excellent customer service, and the lowest prices. It has made us the industry leader in our area in providing new or replacement roofing, fiber cement siding, windows, doors, and other home improvement services. We are fully licensed, bonded, and insured, and our installers and technicians are fully trained and highly experienced at what they do.
Fair Lawn, NJ Roof Repair & Installation Services
Affordable Home Services is available to perform your roof replacement in Fair Lawn, NJ whenever you are. We always work within your busy schedule to make the work as convenient as possible. We use only the highest quality shingles and roofing materials in our work so you can be sure your roof will last for decades to come. You can choose from a wide variety of shingle colors and styles to complement your home. We are the leading roof replacement service in Fair Lawn, NJ because we do the job right and guarantee all of our work.
Fair Lawn, NJ Fiber Cement Siding Replacement
When you are looking for a Fair Lawn siding contractor, Affordable Home Services is the best choice. Vinyl and Fiber cement siding replacement in Fair Lawn, NJ is one of our specialties. It beautifies your home and provides improved insulation which can greatly lower your heating and cooling costs and increases the curb appeal and property value of your home. We have a long working relationship with the largest manufacturers and distributors so you always have a wide variety of siding colors and styles to choose from to complement your home. Call us when you are ready for fiber cement siding installation in Fair Lawn, NJ.
Fair Lawn's #1 Roofing and Siding Contractor
Affordable Home Services, a third-generation contractor, is New Jersey's most trusted roofing and fiber cement siding contractor, having completed over 10,000 jobs. Our goal as a Fair Lawn roofing contractor has always been to deliver high-quality work at a reasonable cost. Our commitment to this objective has sustained us for three generations.
Our financing options encompass roofing, siding, and window work that will make the entire process go more smoothly. Affordable Home Services' in-house financing alternatives were created with you in mind, which means we want everything about your roofing job, including the cost, to go as easily as possible.
Free estimates for all of our services are available for the residents of Fair Lawn, NJ. Stress-free financing options are also available, making it easier for homeowners to improve their homes or make immediate, necessary repairs to mitigate risks. Home maintenance can be affordable with help from the right service provider.
Other Home Improvement Services In Fair Lawn, NJ
Affordable Home Services is also experienced in providing window replacement, door replacement, skylight installation, and brickwork. No matter what type of home improvement work you require we are ready to help you plan it and complete the work. No job is too large or small. Call us at 1-973-473-4830 or contact us online for a free, no-obligation estimate.