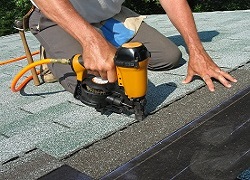 Affordable Home Services proudly serves the community of Edgewater, NJ, in Bergen County. As a third-generation, family-owned home services provider, we manage renovations, roofing projects, and related home maintenance requests. We take pleasure in offering prompt, friendly construction services of the greatest quality. Do you have a straightforward roofing project, a complicated one, or damaged siding? We can help!
Roofing Replacement and Repair in Edgewater, NJ
Our work includes roofing replacement service utilizing the best quality products and a worry-free installation policy. We work with clients to identify the optimal time for roof repairs or replacement while making the project as affordable, convenient, and stress-free as possible. A great roofing job takes the right experience and skill, and we complete projects with accuracy and aesthetic appeal.
Edgewater Fiber Cement Siding Replacement and Installation
We offer fiber cement siding replacement services that upgrade home exteriors to meet the environmental challenges presented throughout the year. New vinyl and fiber cement siding installation, siding replacement, and repair projects are among the specialties of our Edgewater siding contractors. Whether looking for energy efficiency or protection from the elements, we can upgrade siding and give homes new eye appeal.
Window Replacement Services
Window installation and replacement services are available. Each service can improve energy efficiency and the overall look and feel of a home. Natural sunlight through a skylight can create a positive mood, and well-lit homes help increase resale value. The cost savings combined with the aesthetics make new window treatments an effective strategy for home improvement. We work closely with clients to find the right window solutions at an affordable price while making the installation process efficient.
Bathroom Renovations
Bathroom renovations can be complicated, but with our technicians and support, we make the process cost-efficient and seamless. Clients trust us with renovation projects large and small, because of our attention to detail and competitive pricing. Whether the plumbing needs a complete overhaul, or clients want to update the cosmetic elements of bathrooms, we have the skills and experience to get the job done the right way.
Edgewater's #1 Roofing & Fiber Cement Siding Contractor
Affordable Home Services, a third-generation contractor, is New Jersey's most trusted roofing and fiber cement siding contractor, having completed over 10,000 jobs. Our goal as an Edgewater roofing and siding contractor has always been to deliver high-quality work at a reasonable cost. Our commitment to this objective has sustained us for three generations.
Our financing options encompass roofing, siding, and window work, and will make the entire process go more smoothly. Affordable Home Services' in-house financing alternatives were created with you in mind, which means we want everything about your roofing job, including the cost, to go as easily as possible.
Contact Affordable Home Services Today!
Free estimates for all of our services are available for the residents of Edgewater, NJ. Stress-free financing options are also available, making it easier for homeowners to improve their homes or make immediate, necessary repairs to mitigate risks. Home maintenance can be affordable with help from the right service provider.
To schedule roof service in Edgewater, NJ, or in the surrounding areas, please contact Affordable Home Services today. Our technicians can answer questions, provide insight into repairs and prepare detailed quotes for home service projects.