Even though home sizes have pretty much doubled in floor space since the 1950s, not every American bathroom is large and roomy. Many homeowners in Northern New Jersey neglect their smaller bathrooms because they don't feel like making changes would make a lot of difference. However, this couldn't be further from the truth.
If you have a desire to renovate your bathroom, but the room is a smaller space, you can still make noteworthy changes for a home-flattering end result. Check out these 6 tips on remodeling a small bathroom!
1. Get creative with storage space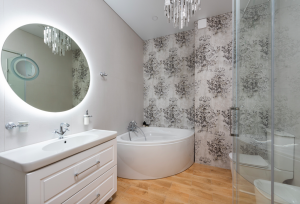 When working with a smaller-than-usual bathroom, you may not have a lot of space available for extra storage or even a closet. Nevertheless, you can incorporate a bit of added storage with some creative implements. For example, you could take advantage of vertical wall space by incorporating a corner shelf, towel racks on the walls, or wall-mounted cabinets for toiletries.
2. Take advantage of lighting to open up the room
Choosing the right lighting and lighting location can do a lot for a small space. One overhead fixture with a broadly distributed illumination prevents shadowing, offers ample lighting, and keeps the space feeling more open and clean. Simple wall sconces over the vanity or surrounding a wall mirror can also offer uncluttered form and function.
3. Consider wall-mounted fixtures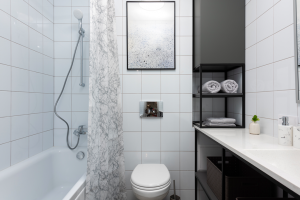 Wall-mounted fixtures open up floor space and prevent a small bathroom from feeling overly stuffy or cluttered. Remember, you want room for your feet to move and enough flooring to show that the space feels open. For example, if you don't have room for a full vanity, you could easily go with a wall-mounted sink. Additionally, you could opt for a floating vanity that still gives you added storage but leaves the floor beneath open.
4. Opt for a frameless shower door design
Frameless glass shower doors are a good combination of form and function, and they serve such a valuable purpose in a small space. The see-through glass without an interrupting frame keeps the room more open, even if you are only getting a few extra feet of visual space.
5. Make use of a small footprint tub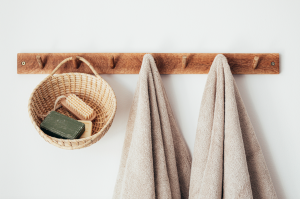 Just because you have a small bathroom does not mean that you have to forgo a place to take a bath in your home, and only have a shower. Bathtubs have come a long way from the massive, claw-foot designs of the past or the units that take up several feet of floor space. Modern freestanding soaking tubs often have a smaller footprint, and still, give you a comfortable spot to take a bath.
6. Incorporate simple luxury for a high-end design
If you want to go with a more upscale look, a small bathroom can still get that luxury appeal. The key is in the details of the design: the faucets and plumbing fixtures, the accent tile used on the walls, or even the lighting fixtures. A little tweaking and splurging on small elements set the stage for a more luxurious personality despite the small floor space of the room.
Key Takeaways
When incorporating added storage into your bathroom, think vertically by adding towels racks or wall-mounted cabinets.
By keeping the shower door frameless, you will get a few extra feet of visual space.
You can still have a tub in a small bathroom!
Incorporating simple elements of luxury can bring an upscale flair to your small bathroom.
Need More Tips on Remodeling a Small Bathroom?
Small bathrooms may pose a few extra challenges when you want to do a remodel, but this only means you need to get a bit more creative. By hiring a bathroom remodeling contractor, like Affordable Home Services, you can be sure that your small bathroom is transformed into the bathroom of your dreams. Reach out to Affordable Home Services to get your free estimate today!